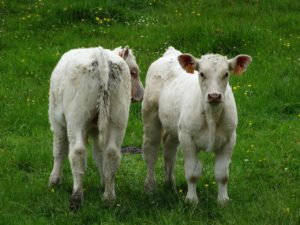 Stay home and cocooning still for a few days, the nature wakes up and the sun is already warm.
Cleaning the house and gardening in order to make them ready for your visit
Until you can join us, I suggest you to cook at home a typical and delicious recipe.
Pancake with griaudes (baked, pressed and dried lard)
Ingredients :
500 g flour
3 eggs
110 g butter
70 g or more grated Gruyère cheese
1 pinch of salt
30 g  sugar
15/20 g baker's yeast
160 g  warm milk
200 g griaudes
Mix together the baker's yeast with milk, sugar and then flour, eggs, softened butter cut
into pieces,  grated Gruyère cheese, griaudes
Let rise until double in size, about 2 hours
Put the batter into the pan
Brush with egg yolk.
Cook in the oven for 25 minutes at 180°C (gas mark 6)
May be eaten hot, warm or cold … real delight
Yum !
Enjoy the tasting! See you soon
Christine