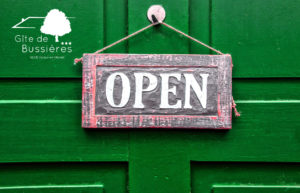 Great news : the Bussières cottage reopens its doors !
Some adjustments are necessary, but if I followed the official recommendations as much as possible, I realized that the cottage already meets many requirements!
With only one accommodation in the cottage, social distancing is by definition respected. Likewise, outdoor activities, hiking/cycling or simply enjoying the garden are unlikely to be contagious and make it easy to respect the distance 😉.
For the cleaning, an external person is in charge of the cleaning of the cottage between two rentals with airing of the accommodation, so there is little risk on this side!
For information, during the 2020 summer season, the soap in the kitchen is changed after each visit and made available under seal. As for the welcome basket, it now includes a bottle of hydroalcoholic gel, so you won't be caught off guard😊.
Lastly, activities and tourist sites are also re-opening (see article "What's new in Ouroux in June 2020 ?" ), as is the Ouroux tourist office, which welcomes you back since June 3rd!
Take care of yourself and enjoy your holidays,

Christine